Dear Valued U.S. Exporter, Trade Stakeholder, and Small Business Professional,
I hope this note finds you, your colleagues, and your families healthy and well.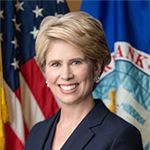 The EXIM Annual Conference is the premier opportunity to hear from talented speakers; network with peers, EXIM staff, and potential buyers; and learn about EXIM's product enhancements and new tools to help your business export "Made in the USA" around the world.
This year, we are moving the event to a virtual platform on September 9-11. The virtual format will provide wider access for more businesses to participate in events featuring panel discussions designed to help U.S. companies expand their exporting opportunities. We are also adding a small business track to increase participation from businesses who might not have been able to send a representative to D.C. in the past.
The conference will begin Wednesday, September 9, with an interactive exhibitors' hall where attendees can request one-on-one appointments with exhibitors and EXIM staff. Plenary and breakout sessions will take place on Thursday, September 10, and Friday, September 11, including live question-and-answer opportunities. At the conclusion of the conference, attendees will have access to recordings of all sessions.

Throughout the event, attendees will hear from distinguished speakers representing the business, academic, media, and government sectors. We are adding impressive speakers each week! Speakers already confirmed for the conference include:
Wilbur L. Ross, Jr.

Robert C. O'Brien

Lawrence A. Kudlow

Secretary of Commerce
Department of Commerce

National Security Advisor

Director of the National
Economic Council

David M. Rubenstein

Meg Gentle

Rodney Hood

Co-Founder and
Co-Executive Chairman
The Carlyle Group

President and Chief Executive
Officer of Tellurian Inc.

Chairman of the National
Credit Union Administration
We remain committed to the theme of EXIM's 2020 Annual Conference — Keeping America Strong: Empowering U.S. Businesses and Workers — and look forward to working with all of you to accomplish this goal.
Sincerely,


Kimberly A. Reed
President and Chairman, EXIM

General Questions? Contact exim@cmpinc.net
Registration Questions? Contact registrar@cmpinc.net