The Export-Import Bank of the United States (EXIM) honored eight U.S. businesses from a range of industry sectors and geographic regions as Exporters of the Year during its 2022 Annual Conference.
These accomplished companies represent a cross section of American innovation and ingenuity, and they illustrate how EXIM's trade finance tools, including Export Credit Insurance and Working Capital Loan Guarantees, can help U.S. companies expand their international sales as they compete in the global marketplace. Nearly 90 percent of EXIM's transactions directly support small businesses.
"EXIM is dedicated to facilitating the exporting success of U.S. small business as they compete globally," said EXIM President and Chair Reta Jo Lewis. "The eight exporters recognized this year have contributed greatly to fulfilling EXIM's mission of supporting American jobs by facilitating U.S. exports. Congratulations to each business!"
Applauding Small Business Exporting Success
This year's Exporters of the Year are:
Alliance Rubber Company: Based in Hot Springs, Arkansas, Alliance Rubber Company was founded in 1923 and is the only manufacturer of rubber bands in the United States. The woman-owned company has used EXIM's Export Credit Insurance since 2007 and currently exports to 60 countries. By following a business plan to take a global approach, Alliance added new markets and increased sales by 24 percent in countries where its products were distributed in just three years.
Aventure International Aviation Services: Founded in 2001, Aventure International Aviation Services is an award-winning supplier of aircraft parts to airlines and maintenance facilities worldwide. With 34 employees and more than 1,600 customers, the minority-owned company is headquartered in Peachtree City, Georgia, and has relied on EXIM's Export Credit Insurance since 2007. During two decades of exporting, Aventure has shipped aircraft parts to more than 56 countries, and approximately 65 percent of its revenues are generated from international customers.
"EXIM Insurance is part of our foreign business sales strategy. The ability to get insurance allows us to sell to a particular customer up to the limits provided by EXIM coverage and vice versa — if EXIM does not guarantee insurance coverage, we are not going to sell to that customer," said Zaheer Faruqi, CEO of Aventure International Aviation Services.
The Grasshopper Company: Established in 1959, The Grasshopper Company is a family-owned business that manufactures commercial and residential mowers and ground care maintenance equipment. In 2017, Grasshopper began using EXIM's Export Credit Insurance and that partnership allowed the company to navigate its global business strategy during the pandemic. Based in Moundridge, Kansas, Grasshopper products are currently sold in 54 countries.
"EXIM short-term single-buyer policies have allowed us to focus on product development and relationships, and to develop certain international markets to the extent that would not have been possible, where the lack of familiar security mechanisms would otherwise limit our exposure," said Trent Guyer, Vice President of Marketing and Global Digital Strategy of The Grasshopper Company.
Haasen Tara Feed: Headquartered in Salt Lake City, Utah, Haasen Tara Feed is a premier global provider of alfalfa hay. The woman- and minority-owned company was founded in 2017 and has been exporting for more than seven years, shipping to customers throughout Asia and the Middle East. EXIM's Working Capital Loan Guarantee has been instrumental to maintaining the company's cash flow, given the seasonal nature of its agricultural products. The company currently has 37 employees, and 100 percent of those jobs are supported by exports.
"EXIM can help you grow big — and is willing to listen small," said Zach Xu, Founder of Hassen Tara Feed .
Hedges Family Estate: Based in Benton City, Washington, exporting has been essential for Hedges Family Estate since it was established in 1987. Producing award-winning wine that is estate grown and bottled as well as certified biodynamic and organic, Hedges has partnered with EXIM since 1989, using both Export Credit Insurance and the Working Capital Loan Guarantee. With EXIM support for 33 years, Hedges has expanded its exports into 25 countries, with top markets of Sweden, Canada, and China. International sales now comprise about 20 percent of total revenue for the family-owned small business.
"If you want to be in the business forever, and most great wineries are, you've got to be worldwide. … It just opens up so many opportunities. If there's a downturn in the U.S., perhaps some overseas markets are doing just fine. So, it's a balance," said Tom Hedges, Owner of Hedges Family Estate.
Jeco Plastic Products: Established in 1973, Jeco Plastic Products is a global leader in the development and production of custom and durable plastic pallets, which have been sold on every continent. The veteran-owned company headquartered in Plainfield, Indiana, turned to EXIM's Export Credit Insurance in 1998. Exports now comprise about 65 percent of Jeco's sales volume, with markets including Western and Eastern Europe, North and South America, Japan, and the Middle East
"Our export business at Jeco Plastic Products has shown double-digit annual growth in recent years, in part because we were able to offer open account payment terms and still eliminate the risk of nonpayment by overseas customers," said Craig Carson, Owner and CEO of Jeco Plastic Products.
Spirit AeroSystems: Founded in 2005 but built on more than a century of aviation experience, Spirit AeroSystems is one of the world's largest manufacturers of aircraft components. Headquartered in Wichita, Kansas, the company has utilized EXIM's Supply Chain Finance Guarantee program, which supports the company's supply chain, comprised primarily of small businesses across the country. The transaction supports more than $2 billion in export sales annually and helps maintain 400 domestic manufacturing jobs across the aerospace supply chain in Kansas, Maine, North Carolina, and Oklahoma.
"EXIM's supply chain finance program is crucial for medium and small U.S. aerospace manufacturers to compete globally and meet increasing demand for commercial aircraft. EXIM's programs help sustain and grow well-paying manufacturing jobs at supply chain companies across the United States," said Mark Suchinski, Senior Vice President and Chief Financial Officer at Spirit AeroSystems.
WCCO Belting: Founded in 1969, WCCO Belting is a leading manufacturer of rubber belting products used for agricultural and industrial equipment. The company based in Wahpeton, North Dakota, has relied on EXIM Export Credit Insurance since 2004. It currently distributes to more than 20 countries, with its largest markets in South America and Australia. More than half of WCCO's total sales are derived from exports.
"There is only one thing worse than not getting an order — and that is getting the order, shipping it, and not getting paid. Then you're out for the cash and inventory. The U.S. EXIM Bank ensures a company gets paid for the products it sells, supporting its ability to compete worldwide," said Thomas "Tom" Shorma, Integration Advisor and Former CEO of WCCO Belting.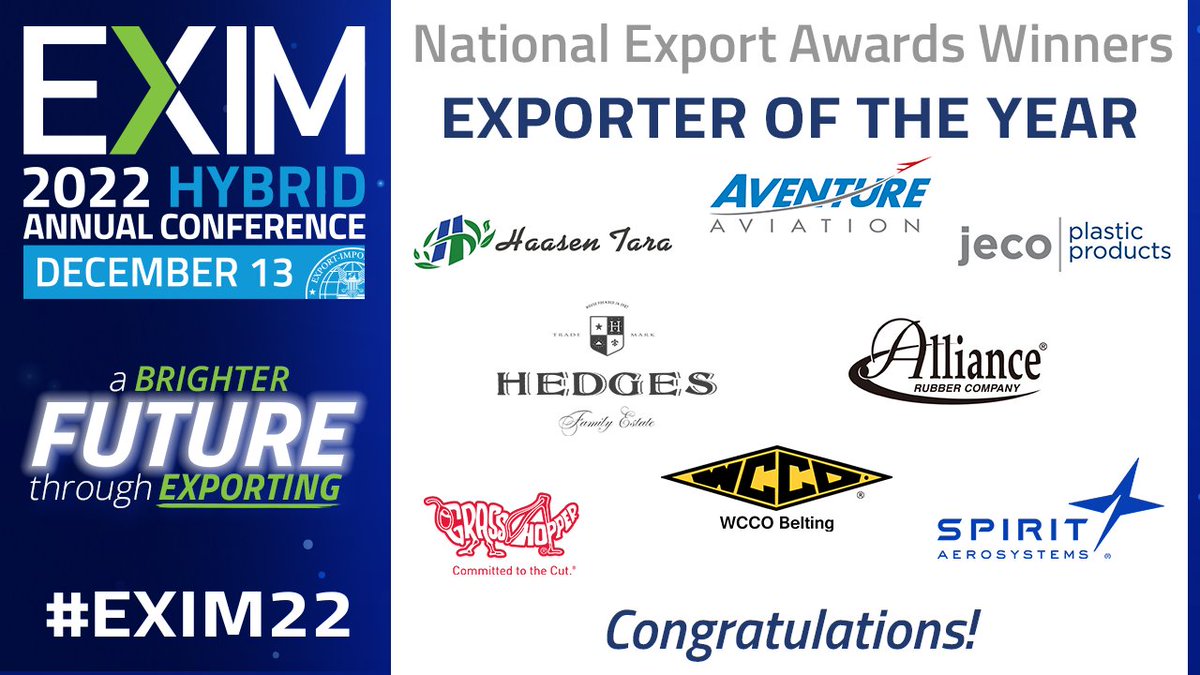 EXIM's Annual Conference was held December 13, 2022, both virtually and in Washington, D.C. With the theme, "A Brighter Future Through Exporting," the event had a special focus on how minority- and women-owned businesses can achieve success by exporting their products to the global marketplace. Attendees heard from leaders in business, finance, government, and policy as well as learned about the resources EXIM offers to support global export development.
To learn how EXIM can assist your business in starting or expanding your export journey, schedule a free consultation with a trade finance specialist today.