Registration is underway for the EXIM 2022 Annual Conference, a one-day hybrid event being held December 13, 2022, that will bring together participants both virtually and in Washington, D.C., with a special focus on how minority- and women-owned businesses can achieve success by exporting their products to the global marketplace.
Participants will have two options for attending the one-day forum. Attendees will convene in-person for the first time since 2019 at the Omni Shoreham Hotel in the nation's capital. Or virtual attendees can can join the event online. Early-bird pricing for both options is currently available, and all guests will hear high-level discussions and engage with innovative leaders.
A Brighter Future for America's Small Businesses
The theme of this year's event is "A Brighter Future Through Exporting." The conference will feature speeches and panel discussions with leaders in business, finance, government, policy, and media as well as one-on-one consultation opportunities for small business owners, with a special focus on minority- and women-owned businesses.
The conference will highlight the importance of U.S. manufacturing, supply chains, the global energy transition, and economic security through exports, and it will emphasize how public-private partnerships can fuel economic growth and commercial trade. The event will also shine a spotlight on diversity, equity, and inclusion in exporting. EXIM will also recognize some of America's leading exporters through national awards and recognitions.
Spotlighting Minority- and Women-Owned Businesses
Attendees will gain valuable information through panel discussions, networking opportunities, and programs detailing the resources that EXIM offers to businesses to support global export development.
"We encourage all American businesses — large and small — to join us if they want information on how to expand globally and tools to open to markets and new sales. We have an amazing program lined up, and I am so excited to welcome everyone as we shape this new era of global exporting," said EXIM President and Chair Reta Jo Lewis.
You can find more information on the conference agenda, key speakers, and other details on the conference website. Discounted early registration ends November 16 — including special rates for small businesses with 500 or fewer employees
You also can follow the conversation about EXIM's flagship event on social media with #EXIM22.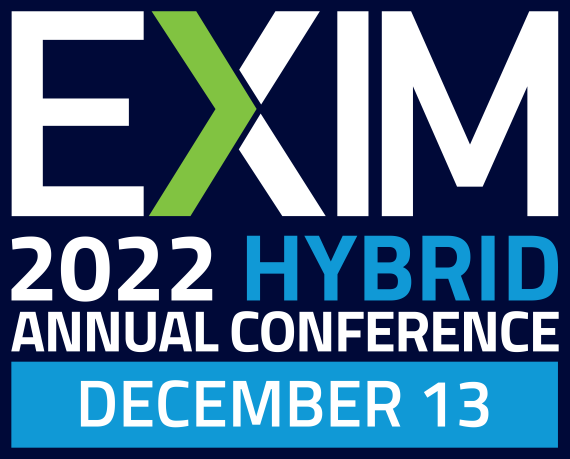 To find out how EXIM can assist your business in starting or expanding your export journey , schedule a free consultation with a trade finance specialist today.