During November, the nation pauses to honor the men and women who put their lives on the line to protect American democracy, values, and freedom around the world. Throughout the month, Americans pay tribute to our military veterans with parades and events nationwide as well as a National Veterans Day Observance at Arlington National Cemetery.
The Export-Import Bank of the United States proudly joins in commemorating the contributions these 16.2 million military veterans have provided to our nation and our economy. To honor their service, EXIM President and Chair Reta Jo Lewis is presenting a special message.
"All of us at the Export-Import Bank of the United States are proud to stand strongly beside our U.S. veterans — supporting those who have served our country with dedication, valor, and sacrifice," Chair Lewis said. "We thank these brave men and women for their service in defending our nation. And we support those veterans who have started their own businesses — continuing to serve our nation by strengthening the economy and creating American jobs."
EXIM President and Chair Reta Jo Lewis honors veterans with a special message. You also can view her message here.
Resources to Make Your Business Resilient

As veterans continue their service by starting their own businesses, EXIM stands ready to support them. For veterans operating a small business, exporting U.S.-made products provides a proven path to success that capitalizes on their global experience and military skills to reach the vast consumer base in the global marketplace.
According to the most recent data from the U.S. Census Bureau, the number of veteran-owned businesses remains strong. The Census Bureau found that in 2022:
There were 304,823 veteran-owned businesses, representing more than 5 percent of all U.S. employer businesses, meaning those business with more than one employee.
Those businesses generated an estimated $922.2 billion in receipts.
They provided jobs for 3.3 million employees with $179.9 billion in annual payroll.
When those numbers for employer businesses with multiple employees are combined with the number of nonemployer businesses that have one employee, the Census Bureau found that veterans own a total of 1.7 million businesses that generate $1 trillion in receipts.
EXIM can assist veteran-owned businesses with the trade finance tools they need to begin or expand exporting their products worldwide. That's where EXIM's Minority and Women-Owned Business Division (MWOB) comes in. To help spread the word about EXIM financing to underserved communities, the MWOB team works closely with organizations that have a minority trade focus to create opportunities for U.S. companies that are owned by veterans, minorities, women, people with disabilities, and the LGBTQ+ community along with rural and startup businesses.
"As a veteran, you're strong and resilient and you want your small business to be strong and resilient as well," said Steve Freshour, a U.S. Marine Corps veteran who is Vice President of EXIM's Business Credit Division. "Global expansion is really a way to do that because you're expanding yourself to international markets and you're not relying on one market that could potentially harm your business if there's a downturn in one particular market. By expanding globally you've really mitigated your risk and made your business a lot more resilient in the long run."
To learn about the resources available from the federal government and its partners, you're invited to join EXIM's MWOB team for a free special event on Wednesday, November 29, 2023, at 2 p.m. ET:
Veterans and Military Family Appreciation Month with EXIM
You will learn about EXIM's financing tools and services as well as strategies for successful exporting. We'll bring together a select group of accomplished entrepreneurs and resource providers in the veterans business community to discuss their professional experiences, lessons learned, and supporting programs.
The 'Solid-Steel Backbone' of the Nation

Veterans Day originated as Armistice Day, designated by President Woodrow Wilson on Nov. 11, 1919, the first anniversary of the end of World War I, which took effect on the eleventh hour of the eleventh day of the eleventh month. Congress passed a resolution in 1926 making it an annual observance, and it became a federal holiday in 1938.
In 1954, following World War II, President Dwight Eisenhower signed legislation changing the name to Veterans Day, expanding it beyond World War I to honor all who serve the country during war or peacetime.
In proclaiming Veterans Day 2023, President Biden praised veterans as the "solid-steel backbone of our Nation" and encouraged all Americans to recognize their valor, courage, and sacrifice.
"This Veterans Day, we honor the generations of women and men who have served and sacrificed — not for a person, a place, or a President — but for an idea unlike any other: the idea of the United States of America. For nearly 250 years, our veterans have defended the values that make us strong so that our Nation could stand as a citadel of liberty, a beacon of freedom, and a wellspring of possibilities," the President said.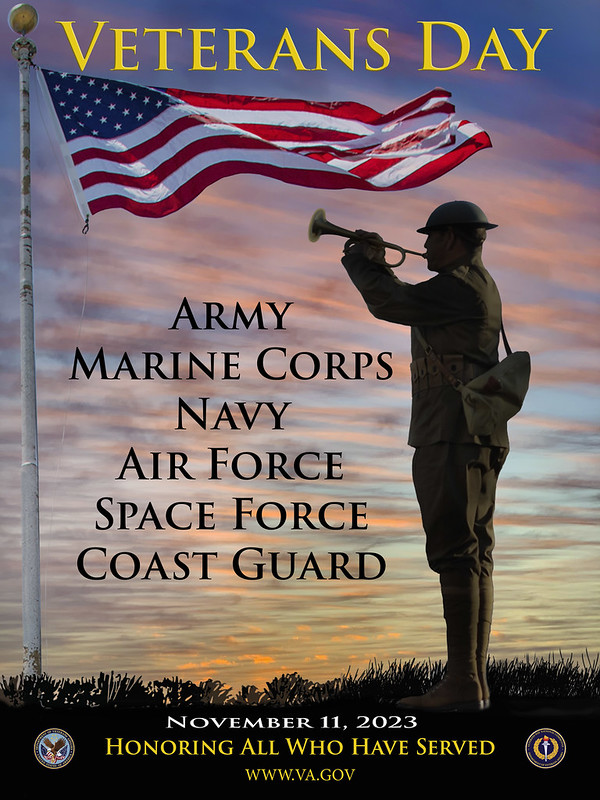 To find out how EXIM can help your business compete in the global marketplace, schedule a free consultation with a trade finance specialist and launch your export journey today.