As the nation pauses on Veterans Day to pay respects to those who have served in the U.S. armed forces, EXIM joins in saluting these men and women for their service. According to the most recent U.S. Census Bureau data, approximately 18 million people, representing about 7 percent of the adult population, were military veterans in 2018.
As those who have defended the nation continue their service by creating American jobs and boosting the U.S. economy, EXIM's trade finance tools can help veteran-owned small businesses compete in the global marketplace and increase sales of American-made products. Since 2014, EXIM has authorized more than $289 million in support of small businesses owned by veterans, including an estimated $28 million in fiscal year 2021.
EXIM offers financial resources designed to help veterans battle barriers to exporting and grow their business. Trade finance tools, including export credit insurance and working capital loan guarantees, can help overcome initial obstacles to exporting by mitigating the risk of buyer nonpayment or providing ways to access working capital cash flow.
To assist in this process, EXIM has a dedicated group of specialists in the Office of Minority and Women Owned Businesses (MWOB) who work with veteran-owned businesses to help them access EXIM financing. Veterans can find resources and contact specialists who can help provide the financing and confidence veterans need to take on new business abroad.
South Carolina Company Grows with EXIM Support
Army veteran Ross Johnson has used those EXIM tools to expand a business that grew from his military experience. During three tours as a Special Forces medic in Afghanistan, he learned firsthand what was needed to save lives in an emergency situation. So he developed his own tourniquets, starting with a sewing machine at his parents' home while still on active duty.
Johnson's efforts led to Tactical Medical Solutions (TacMed), the Anderson, South Carolina, company he founded that has become a leading global developer and manufacturer of medical gear used on battlefields and in other lifesaving applications worldwide. To expand into new international markets, TacMed uses EXIM's export credit insurance, which allows the company to offer favorable payment terms to its foreign customers, resulting in both increased sales and additional jobs.
"Don't be afraid to move forward and grow your business outside of our borders – exporting is not just for large companies," Johnson has advised other companies. "There are plenty of programs available to help you navigate the challenges of exporting, reduce your risk and grow your business!"
Indiana Company Relies on Plethora of Federal Resources
Craig Carson is another Army combat veteran who has utilized support from EXIM and other federal agencies to grow his small business and support American jobs. As CEO of Jeco Plastic Products, a global leader in the development and production of custom and durable plastic pallets, he draws on an extensive background in high technology plastic materials and processes. Jeco's products have far-reaching applications, having been aboard the International Space Station as well as Airbus and Boeing aircraft.
Beginning in 1998, Jeco turned to EXIM's export credit insurance to protect the company's foreign receivables from nonpayment by international buyers. That allowed the company to offer open account credit terms to its customers, which paved the way for increased sales.
In addition to EXIM, Carson has tapped federal resources to support exporters that are offered by the U.S. Commercial Service, the U.S. Small Business Administration, and the U.S. Manufacturing Extension Partnership. He recently spoke during a webinar celebrating Manufacturing Day, explaining how federal agencies, with complementary missions, provide personalized help for small business exporters.
"When you're in trouble and you're small, you'd better have somebody who's actually going to move and help you out," Carson said. "And I just can't say enough about all of those organizations."
He advised other small businesses to take that first step to get their exporting journey started: "The best thing to do is to simply take one step forward, whichever seems right. One step will lead to another."
The exporting process is a journey, Carson explained. "Each person will help you along that journey," he said. "And as you take that step, you're going to find out where the next step really should be."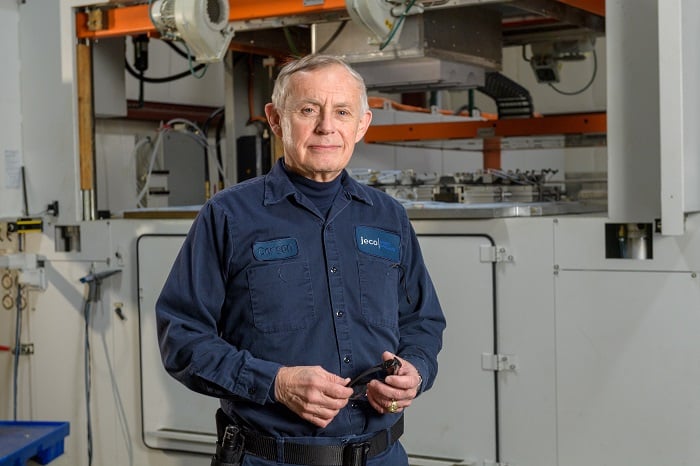 Craig Carson, Army Veteran and CEO of Jeco Plastic Products
Join EXIM's Veterans Day Event Featuring Jeco Plastic Products
You can hear more from Craig Carson as he discusses Jeco Plastic Products' exporting experience during an interactive event November 17 focused on how EXIM's MWOB division can help you start your exporting journey. Register here to join the conversation.
When you're ready to take that step and find out how EXIM can help veteran-owned businesses confidently compete and export in the global marketplace – schedule a free consultation with an EXIM trade finance specialist.