Celebrated annually on March 8, International Women's Day is a global event honoring the social, economic, cultural, and political achievements of women. In recognition of these accomplishments, EXIM is highlighting tools and resources that help women-owned businesses succeed in the global marketplace.
Chair Lewis Underscores EXIM Commitment to Closing the Gap

To celebrate International Women's Day and its theme of #EmbraceEquity, Trade Finance Global asked women leaders in global trade — including EXIM President and Chair Reta Jo Lewis — this question: What does #EmbraceEquity mean to you?
"As the leader of the Export-Import Bank, Embrace Equity means taking concrete actions to promote equity in all EXIM internal and external operations. By prioritizing equity, we are helping to ensure that our lending and investment activities help all communities," said Chair Lewis.

"EXIM has a critical role to play for businesses that are looking to reduce the risk of exporting and need access to capital. Indeed, Congress has directed EXIM to expand and increase its presence and outreach to help more businesses export especially with women and minorities, persons with disabilities, veterans, LGBTQIA and in rural states. Therefore, Embracing Equity to me means that EXIM must be intentional, we must be serious about closing the gap because often our customers do not know that EXIM can help them."
Providing Resources for Women-Owned Businesses
EXIM supports numerous women-owned businesses as they export their goods and services around the world, including these successful companies:
Auburn Manufacturing: Based in Mechanic Falls, Maine, the company manufactures high performance textiles for extreme temperature protection. But Auburn needed invoice insurance before its lender would consider foreign accounts receivable as collateral, so it turned to EXIM's Export Credit Insurance. That support has allowed the small business to expand into five new markets and sustain approximately 50 jobs, and exports now account for about 30 percent of sales.
When Kathie Leonard, Auburn's President and CEO, got into the business in 1979, there were few other women in manufacturing roles but that is changing. "The world is a woman's oyster right now if they're in manufacturing, because there really weren't that many of us," she said.
She encourages other women to follow in her footsteps in business: "Women in business is getting to be normal at this point. Even in manufacturing, I'm seeing it more and more. And a lot of women have worked their way up through those organizations. They've proven themselves, and it's no longer a strange thing or awkward to have a woman in those places. So we've come a long way."
BuzzBallz: EXIM helped the small business headed by Merrilee Kick, a former high school teacher turned CEO, grow into a multinational company that makes ready-to-drink cocktails. Based in Carrollton, Texas, the firm has been using EXIM's Export Credit Insurance for invoice protection since 2017, and the support has allowed it to continue increasing sales, adding new jobs, and evolving into a global company with revenue on pace to exceed $100 million.
"Americans need more product internationally, and you can use EXIM to help with that," she said. "A lot of women and small businesspeople don't know how to navigate those waters, and there's a huge need for it. When you go overseas, they love American goods."
AKAS Textiles: With a focus on sustainable manufacturing and environmentally friendly fabrics, the small business recognized opportunities in international markets but initially struggled with the risks of exporting. By utilizing EXIM's Export Credit Insurance to offset those risks, export revenue for the company based in Bensalem, Pennsylvania, tripled to 15 percent of its business, with a future goal of 50 percent.
"EXIM has been a savior in that way. We would never have been able to export as much as we are now," said Archana Sharma, CEO of AKAS Textiles. "What EXIM has given us is confidence in exporting, and that makes a big difference. We're not afraid anymore."
EXIM's Minority and Women-Owned Business Division (MWOB) can help other U.S. businesses owned by women replicate the success of these companies. The MWOB team works closely with organizations that have a minority trade focus, to help spread the word to underserved communities about EXIM financing and create opportunities for U.S. companies that are owned by minorities, women, veterans, and people with disabilities.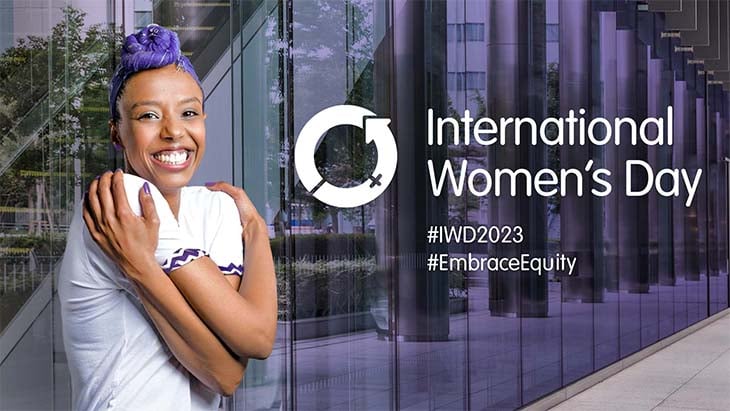 Embracing Gender Equity

International Women's Day dates to 1911, when it was first observed with rallies in several countries for women's right to vote and hold public office, for better working conditions, and for an end to discrimination. Less than a week later, on March 25, 1911, the Triangle Shirtwaist Factory Fire took place in New York City, causing the deaths of 146 workers — mostly women and girls — and leading to regulations requiring improved workplace safety conditions.
The United Nations began observing International Women's Day in 1975, and it's now celebrated as an official holiday in many countries.
International Women's Day also provides a focus on the continuing pursuit of gender parity worldwide in areas such as economic opportunity, education attainment, health care, and political participation. In the 2022 edition of its Global Gender Gap Report, the World Economic Forum found that, at the current rate of progress, it will take 132 years to reach gender parity.
In the United States, the gender pay gap — the difference between the earnings of men and women — has barely closed in the past two decades, according the latest data from the Pew Research Center. In 2022, American women typically earned 82 cents for every dollar earned by men. Another study by the U.S. Government Accountability Office found that the gender pay gap is greater for certain racial and ethnic groups, and that it varies by employment sector and education level.
At the White House, President Joe Biden issued a statement commemorating the occasion.
"International Women's Day honors a truth we live every day — that women and girls are essential to success and progress in every aspect of our society," said the President. "Promoting opportunities for women and girls strengthens security, stability, and prosperity for everyone. And we know that we cannot solve any of the great global challenges of our time if half the population is left behind. So today, as we celebrate the accomplishments and contributions of women and girls around the world, we also reaffirm our commitment to ensuring that all people can reach their full potential."
EXIM is committed to prioritizing equity and providing resources for U.S. small businesses. To find out how EXIM can help your business compete in the global marketplace in 2023 and beyond, schedule a free consultation with a trade finance specialist and launch your export journey today.