As the number of U.S. Black-owned businesses continues to grow, the Export-Import Bank of the United States (EXIM) underscores that success by offering trade finance tools to help these companies begin or expand their export sales.
To commemorate Black History Month, EXIM is highlighting the resources available to support U.S. businesses as they export their American-made goods and services to the global marketplace.
EXIM's Minority and Women-Owned Business Division (MWOB) works closely with organizations that have a minority trade focus, to help spread the word to underserved communities about EXIM financing and create opportunities for export-ready U.S. businesses that are owned by minorities, women, veterans, and people with disabilities. As part of this outreach and education effort, EXIM is hosting a free webinar:
Thursday, February 23, at 2 p.m. EST
Attendees will hear from experts from both the public and private sectors as well as Black-owned businesses who have successfully exported their products worldwide, including:
Case Lane (Chi Emeruwa), Head of Global Operations, Black & Global Business Network.
Dondre Anderson, CEO of Symphony Chips.
Aerek Stephens, Program Manager of EXIM's Regional Export Promotion Program.
This online event is open to all U.S. companies interested in expanding their businesses internationally. In addition to the presentations, there will be an audience Q&A session. Learn about financing strategies and government resources that can help you grow globally, where 95 percent of the world's consumers live. There is no cost for the webinar, but advance registration is required. You can register for the event here.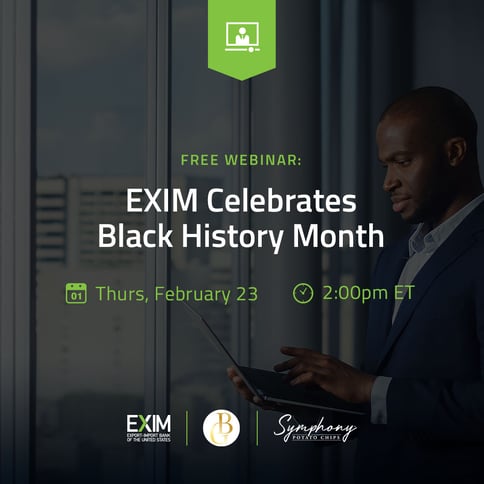 EXIM is committed to prioritizing equity and providing resources for U.S. small businesses. To find out how EXIM can help your business compete in the global marketplace in 2023 and beyond, schedule a free consultation with a trade finance specialist and launch your export journey today.