As the calendar turns to March, you might be facing winter or looking towards spring. No matter where you are located one thing is consistent, March is National Peanut Month!
Here are some interesting facts about peanut butter:
Every year Americans eat enough peanut butter to coat the floor of the Grand Canyon. (Source: Texas Peanut Board)
Two peanut farmers have been elected president of the United States – Thomas Jefferson and Jimmy Carter.
It takes about 540 peanuts to make a 12-ounce jar of peanut butter.
While peanut butter's popularity in the United States is undeniable, one Portage, Indiana company has found their unique take on peanut butter to be very popular overseas. BNutty, a small business founded by Carol Podolak and Joy Tompkins, started by selling homemade peanut butter as part of fundraising efforts for their local youth soccer club. The two quickly realized they had something special when customers demanded the product be available year-round. Soon their fan base exceeded their humble kitchens, and a small business was born.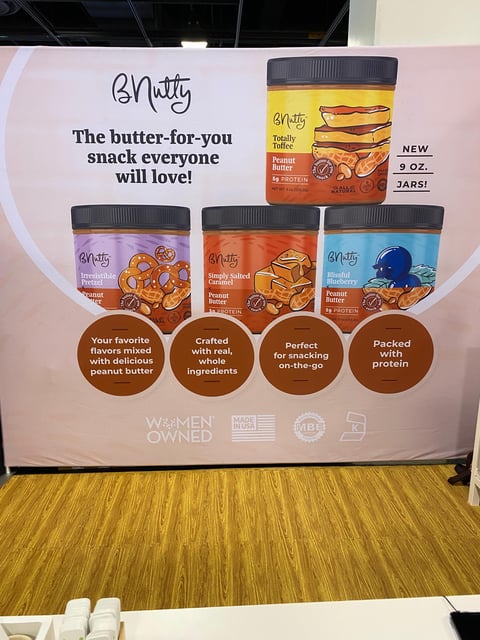 (BNutty's exhibit booth at the Natural Product Expo West trade show in Anaheim, CA - March 8, 2023)
When BNutty's popularity attracted attention from overseas buyers, Thompkins and Podolak realized doing business overseas was a much different ballgame. Rather than ignoring a great opportunity to grow their business, BNutty considered accepting international buyers on a limited scale, requiring cash-in-advance terms.
Through the Indiana exporter accelerator program, BNutty was introduced to the Export-Import Bank of the United States (EXIM). Learning about EXIM's invoice protection solutions along with other exporting resources, BNutty was able to put together a well-thought export plan. Now, BNutty exports their delicious peanut butter to the Middle East, with expansion plans for sales in several additional countries such as Hong Kong, South Korea, and the Philippines.
"EXIM took the time to point out things that other customers or small-business owners encountered that could lead to an expensive mistake, and we were able to take those lessons that other companies learned the hard way and avoid a lot of that." - Carol Podolak & Joy Thompkins, Founders of BNutty