The Export-Import Bank of the United States (EXIM) offers export finance solutions to assist U.S. exporters to level the playing field, mitigate the risk of non-payment, and secure working capital financing. Before considering using any of EXIM's products and services, you should refer to EXIM's Country Limitation Schedule (CLS) to see if EXIM provides support for a specific country or what is known as "open for cover" or "off-cover".
The "open for cover" status represents EXIM is open for business in that country and the possibility for support, not a guarantee. However, there are many factors and criteria that need to be evaluated for EXIM support, regardless of if the country is "open for cover".

If a country is marked as "off-cover", EXIM is not available for support in that country. Restrictions may apply based on political or economic conditions associated with that particular country. Usually the "off-cover" designation is indicated by an "X" on the CLS (example below).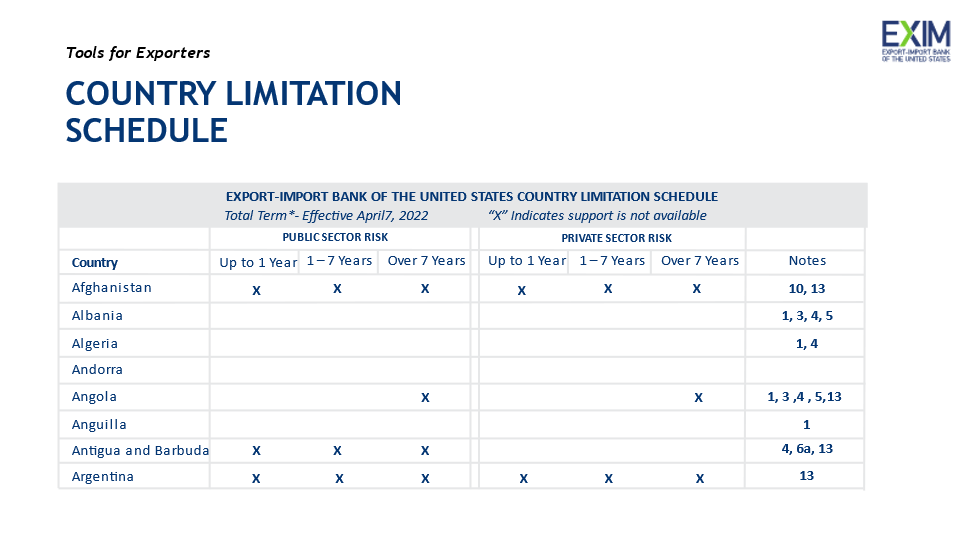 Even if the CLS shows there is no support for a country, EXIM can still consider support if certain conditions are met and subject to additional special review. These four special categories of transactions include:
Borrowers on International Capital Markets
Insulated Project Finance Structures
Secured Long-Range Aircraft Leases
Acceptable Borrower Outside the Country
In addition, whether EXIM is open or closed for business in a specific country, there can be notes attached. The notes are very important, and I refer to them as the "fine print" of the CLS relating to specific countries. For example, here are two countries where EXIM is open for business or "open for cover":



While Canada & Micronesia, both technically are "open for cover", notice how Micronesia has notes 1, 3, 5, 10, & 14 attached compared to Canada which has none. These notes can make a big difference if EXIM can support your exports to a tenor / buyer type in that country. The detailed description of each of the notes can be found on the CLS.
EXIM's CLS is very important resource and a critical component of the Exporter's Toolbox. If you have any questions regarding the CLS or you are looking to start your own exporting journey, we encourage you to sign up for a free consultation with one of EXIM's regional directors. They will help you through any issues with the CLS and get you started on growing your exports internationally.