Reta Jo Lewis, a Georgia native with a long career dedicated to public service, has been confirmed by the U.S. Senate to become the next President and Chair of the Board of Directors of the Export-Import Bank of the United States (EXIM). Her swearing in will mark a milestone in EXIM's history as she will become the first Black woman and the first person of color to lead the agency since its establishment in 1934.
Ms. Lewis has worked in public policy and international affairs for nearly three decades, in both the public and private sectors. In her historic role at EXIM, she will bring a record of commitment to small businesses and underserved communities. She comes to EXIM from her current position as Senior Fellow and Director of Congressional Affairs at the German Marshall Fund of the United States. She also has held senior positions at the White House, U.S. Department of State, and U.S. Chamber of Commerce.
Those diverse experiences have allowed Ms. Lewis to witness the positive impact that America can have on the world, she told members of the U.S. Senate Committee on Banking, Housing, and Urban Affairs during her October 26, 2021, nomination hearing.
"Throughout my career, I have sought to connect the best of America with the world," she said in her prepared testimony.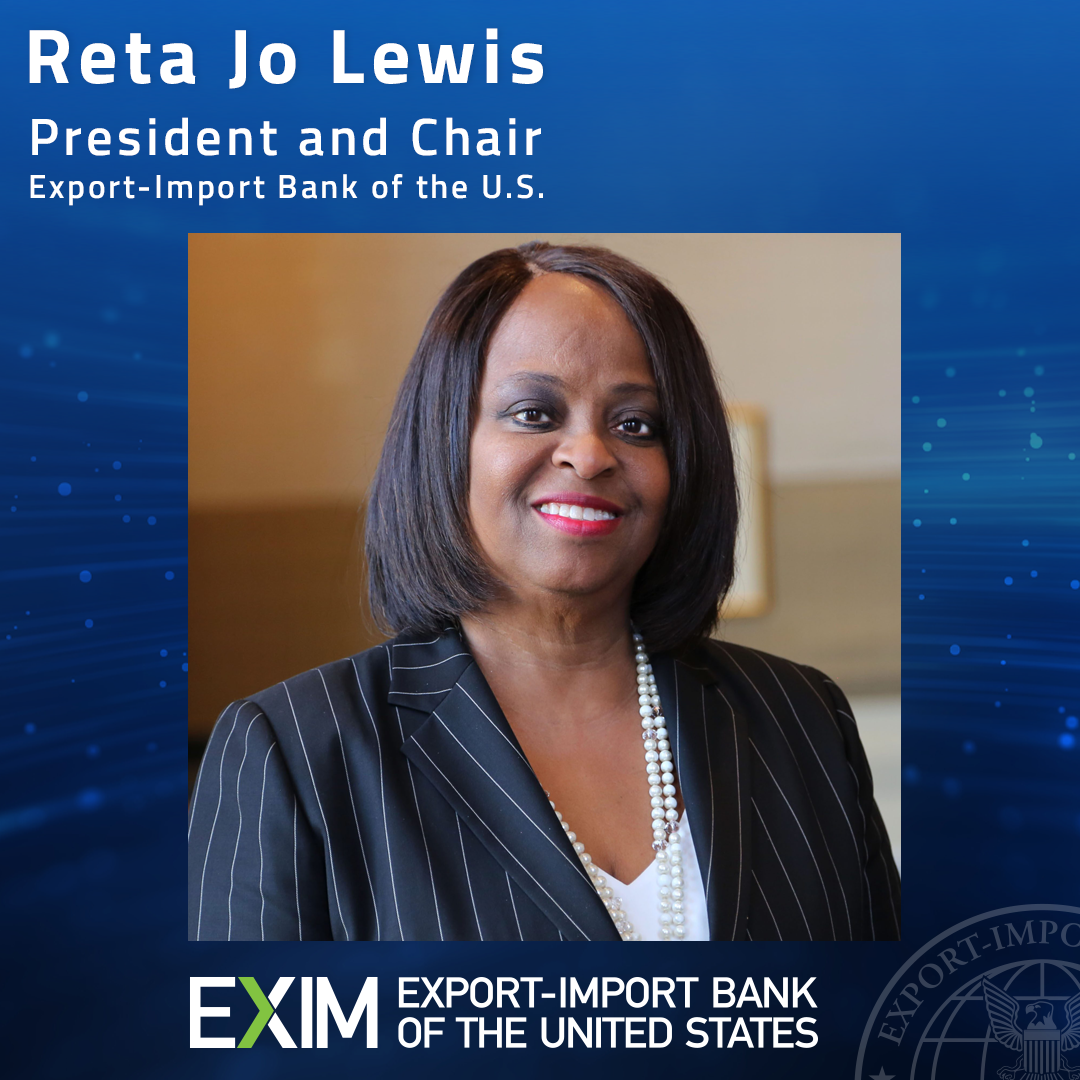 Building on Small Business Roots in Georgia
A native of Statesboro, Georgia, Ms. Lewis holds a bachelor's degree in political science from the University of Georgia, a master's degree from American University, and a law degree from Emory University. She credits her small-town background with launching her public-service career.
"I grew up in rural Georgia in a family dedicated to public service," she said. "My mom and dad, Charlie and Alethia Lewis, were small business owners and community leaders who instilled in my siblings and me the value of work."
Fostering Dialogue with Underserved Communities
Throughout her career, Ms. Lewis has led efforts to support U.S. businesses and build international partnerships shaped by American values. She has sought to expand inclusiveness in foreign policy, including through her work with the Leadership Council for Women in National Security, the Transatlantic Inclusion Leaders Network, and the Council on Foreign Relations.
At the U.S. Chamber of Commerce, Ms. Lewis was the first Black woman to serve as vice president and counselor, leading the Chamber's initiatives focused on small business as well as outreach to businesses owned by women and minorities.
"I have also seen the vital role entrepreneurs and their workers play in building a strong middle class," she said. "While leading strategic alliances at the U.S. Chamber of Commerce and through my work as an attorney, I helped connect small, women, and minority-owned businesses and organizations with resources and networks to foster strategic alliances and opportunities. I heard their stories and ensured that they were brought into the dialogue on vital business policy matters."
Noting that her late parents "would be extremely proud" of her opportunity to continue supporting small businesses across the country, Ms. Lewis said she looks forward to helping EXIM fulfill its mission of supporting American jobs by facilitating U.S. exports.
"Together, my experiences taught me an essential truth: Americans are the most hardworking, strongest people on earth," she said. "In return, they ask that those of us in positions of leadership stand up for them and create a level playing field."