In today's online world, customer reviews are critical to success — whether you're purchasing a product, booking a reservation, or expanding your small business into the global marketplace. Consumers rely on certain factors to help decide whether to make a purchase. It could be their personal experience with a particular brand, or it could be the marketing behind a certain product.
However, in the social media age, customer reviews are the number one driving factor that can sway consumer decisions. A recent study showed that 97 percent of consumers check online reviews before purchasing an item, while 95 percent of travelers read online reviews prior to making a reservation.
Sharing your experience can influence others in a positive way, and it's not limited to making a purchase. When it comes to making a business decision such as whether to export, hearing from someone who's already been through the process can offer a valuable perspective.
The Power of Hearing from Your Peers
Listening to the advice of industry peers could provide the confidence other small businesses need to begin selling their products and services internationally.
For instance, here's a customer testimonial featuring Ashrey Sharma, Chief Operations Officer of AKAS Textiles. The woman- and minority-owned small business designs and produces textiles in Bensalem, Pennsylvania, with a focus on sustainable manufacturing and environmentally friendly fabrics. An EXIM customer since 2013, it was named EXIM Exporter of the Year in 2021.
However, during the COVID-19 pandemic, the company's fabrics have become critical around the globe for making PPE products and face masks. Partnering with EXIM allowed AKAS Textiles to overcome challenges that could have resulted in supply chain issues for customers.
Share Your Story to Help Other Small Business
The National Association of Manufacturers (NAM) and federal partner export promotion agencies, including EXIM, are embarking on a new campaign to encourage experienced exporters to share advice and best practices with other small to medium sized manufacturers on their experiences in the global marketplace.
You can help other small businesses by submitting a short video, offering peer-to-peer advice about how to get started exporting and create an export strategy. Simply log onto the submissions page and answer any of these questions:
What was your pivotal moment to say "yes" to exporting?

Please describe your steps in getting started exporting.

What's your best advice for aspiring exporters or firms sitting on the "export fence?"

What was and how did you overcome your biggest challenge in the global marketplace?

What federal or state export promotion services have best supported your global sales success?

Please share any particularly effective strategies you have used to manage recent global supply chain challenges.

What has exporting meant to your competitiveness and bottom line?

What is your best lesson learned for doing international sales?

What about your export experience has been most surprising or appreciated?
Selected responses will be posted to the NAM YouTube page to inspire and encourage other manufacturers to consider expanding their product offerings around the world.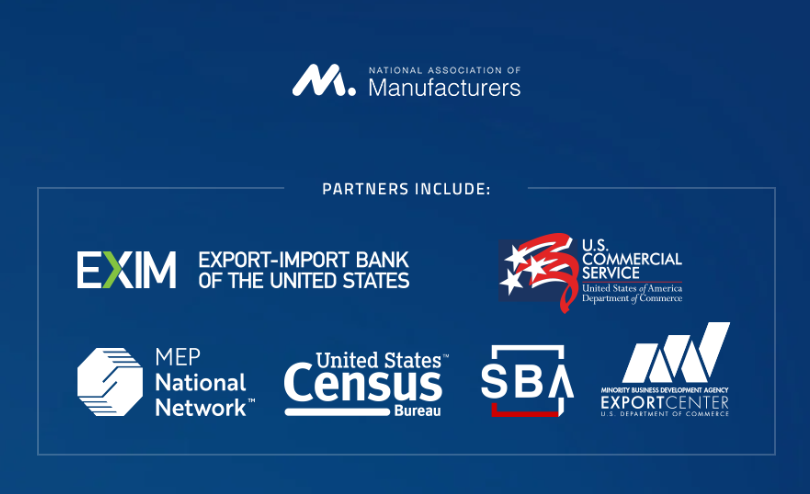 EXIM has been supporting U.S. manufacturers for over 88 years with trade finance products such as Export Credit Insurance and Working Capital Loan Guarantees. To learn more about either product, EXIM offers free consultations with our regional directors located throughout the U.S.