Exporting brings a number of risks including foreign buyer nonpayment. Letters of Credit are just one way to mitigate these risks. As a refresher, a Letter of Credit is basically a contract, moderated by a bank, where the foreign buyer gives the payment to their bank, and the bank holds that payments until after the terms and conditions stated in the sales contract have been met. Letters of Credit have normally been the standard for managing these risks; however, other methods of payment have picked up in use when dealing with international transactions.
Below are some of the advantages to using Letters of Credit including:
Risk is on foreign buyer's bank
A secure method of payment
Build safeguards into the letter of credit such as delivery, quality control, etc.
But, there are also disadvantages that come with Letters of Credit:
Costly
Sensitive expiration dates
Require amendments if there are any changes, hence delaying the transaction
Reliability of payment under the Letter of Credit is dependent on the issuing bank
An alternative to Letters of Credit is to allow foreign buyers to pay on "open account" credit terms. To protect your business from nonpayment, you can consider export credit insurance, but think about the following questions when making the transition:
Do the costs of generating a Letter of Credit outweigh the benefits of the transaction?
Are we exporting to the same buyer in the same country on multiple transactions?
Do we have multiple buyers we are exporting to?
If you said yes to one or more of these three factors then export credit insurance may be the right fit for you. With EXIM export credit insurance there are a variety of options that provide coverage in riskier emerging foreign markets. In fact, EXIM covers export sales to over 175 countries. Transitioning to export credit insurance is as easy as picking up the phone and speaking with a trade finance specialist.
Types of Export Credit Insurance
Below is an example of export credit insurance for U.S. Exporters: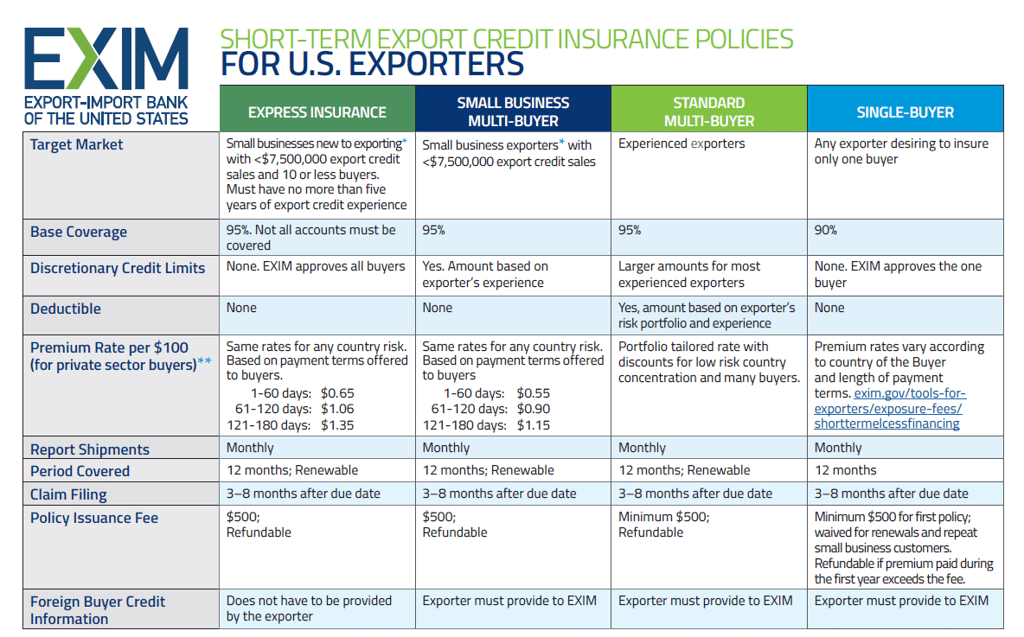 Learn More
EXIM Bank provides financing solutions to help your small business increase its foreign sales while mitigating the risk when dealing with foreign transactions. To speak to your local EXIM consultant about whether your small business is eligible for EXIM Bank products or if you have U.S. content questions, please click below:
*If the small business exporter opts to aggregate multiple products in a single invoice, a Content Report is required
** Small Business Content Eligibility: The content calculation to determine eligibility includes all costs