During Women's History Month, the nation celebrates the contributions women have made throughout American history, strengthening the country and opening the doors of opportunity for subsequent generations.
With women owning one in five U.S. businesses, the Export-Import Bank of the United States (EXIM) commends those contributions to the American economy and workforce. To provide even more opportunities for growth, EXIM offers resources to support women-owned businesses — including the upcoming Women's History Month webinar on March 28.
"Here at the Export-Import Bank of the United States, we pay tribute to all American women — who have long been at the forefront when it comes to advancing business, innovation, and advocacy for greater equity and access," said EXIM President and Chair Reta Jo Lewis.
EXIM President and Chair Reta Jo Lewis celebrates Women's History Month. You also can view her message here.
Contributing to U.S. Economic Growth

The most recent data from the U.S. Census Bureau shows the number of women-owned businesses continues to grow, providing a major impact on the U.S. economy. The Census Bureau found that in 2020:
There were 1.24 million women-owned businesses across all sectors of the U.S. economy.
That represents 21.4 percent of U.S. businesses.
Those businesses generated $1.9 trillion in annual receipts.
They accounted for 10.9 million employees and about $432.1 billion in annual payroll.
To help U.S. companies expand their international sales, EXIM offers export finance tools, including Export Credit Insurance and Working Capital Loan Guarantees, so they can compete successfully in the global marketplace.
"Throughout Women's History Month, we'll be providing numerous resources for your businesses," Chair Lewis said. "We are committed to helping historically underserved companies succeed, and our support will continue throughout the year."
One of those successful woman-owned businesses is Koval Distillery, which has relied on EXIM's export credit insurance to increase its international presence. Based in Chicago, Illinois, the company ships organic spirits and liqueurs to more than 50 countries, with exports accounting for about 30 percent of sales. Its president, Sonat Birnecker-Hart, encourages other small companies to consider exporting as a way to both grow their revenues and strengthen their operations.
"I would recommend to everyone that has a business that has things that can be exported to try and do so, because it will help them grow, and it will help one really become bigger, better, faster, stronger," she said.
Discover How Women-Owned Businesses Can Break Barriers in International Trade

To highlight how other U.S. businesses can duplicate that success, EXIM's Minority and Women-Owned Business Division (MWOB) will be hosting a Women's History Month event — Women Breaking Barriers in Trade — on March 28 at 2 p.m. EDT. The MWOB team works closely with organizations that have a minority trade focus, to help spread the word to underserved communities about EXIM financing and create opportunities for U.S. companies that are owned by minorities, women, veterans, and people with disabilities.
This online event is open to all U.S. companies interested in increasing their profitability by expanding their sales worldwide. In addition to the presentations, there will be an audience Q&A session. There is no cost for the webinar, and you can register for the event here.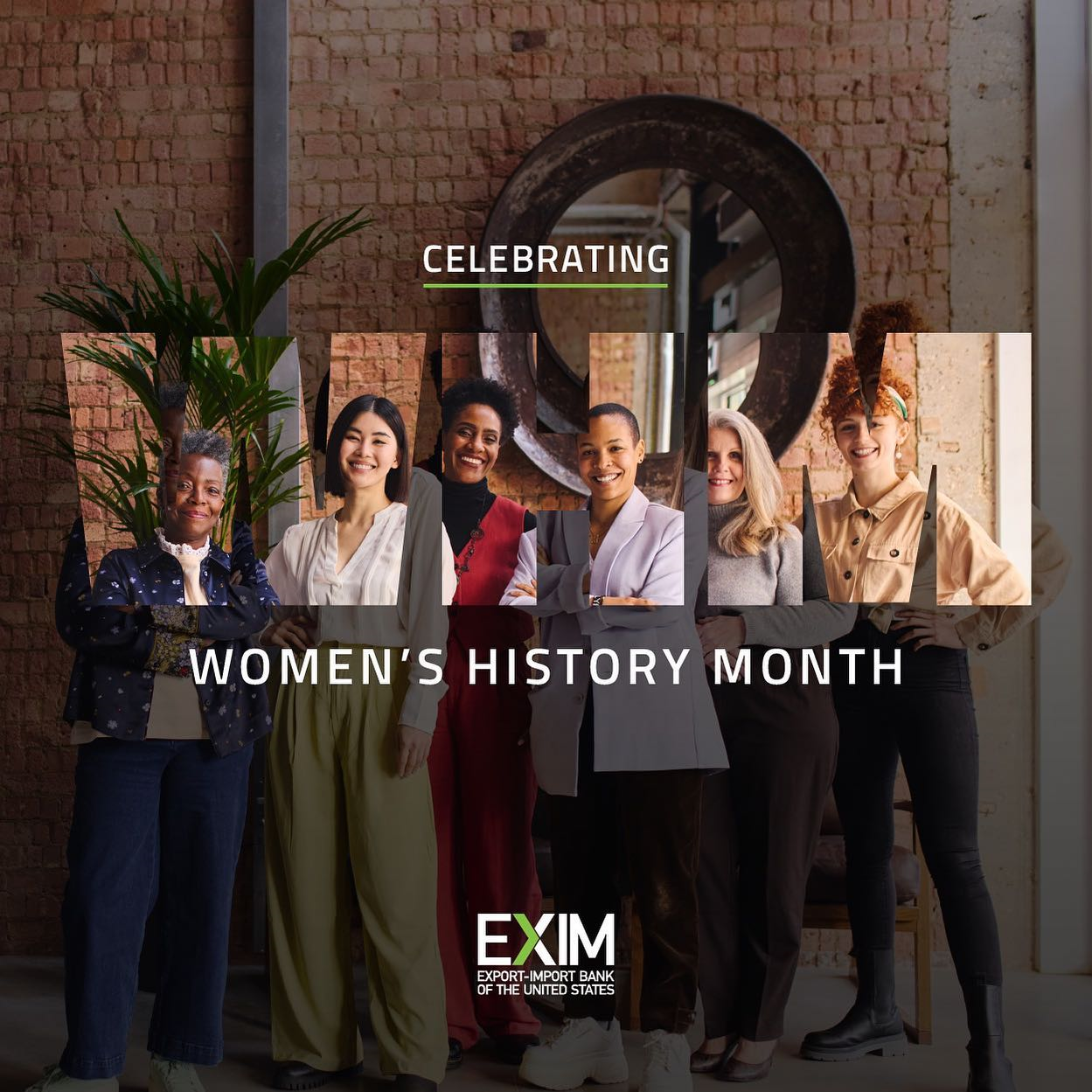 Advancing Gender Equity and Equality

Women's History Month dates to 1980, when President Jimmy Carter issued the first presidential proclamation declaring a Women's History Week. While women's history weeks continued for several years, a number of states adopted month-long celebrations. In 1987, Congress declared March as Women's History Month nationwide. Since 1995, presidents have followed suit, issuing annual proclamations commemorating Women's History Month.
This year, in proclaiming March as Women's History Month, President Joe Biden noted that the full participation of women is a foundational tenet of democracy.
"During Women's History Month, we celebrate the countless women who have fought tirelessly and courageously for equality, justice, and opportunity in our Nation," he said. "We also reaffirm our commitment to advancing rights and opportunities for women and girls in the United States and around the world. We are mindful that we are building on the legacy of both recognized trailblazers and unsung heroines who have guided the course of American history and continue to shape its future."
EXIM is committed to prioritizing equity and providing resources for U.S. small businesses. To find out how EXIM can help your business compete in the global marketplace in 2023 and beyond, schedule a free consultation with a trade finance specialist and launch your export journey today.