Since 1995, U.S. presidents have proclaimed March as Women's History Month, celebrating the contributions American women have made to the nation and recognizing their achievements in a variety of fields. That includes business, where women own about one of every five U.S. companies.


When it comes to economic impact, the growing number of women business owners has a major effect. According to the U.S. Census Bureau, 20.9 percent of American businesses are owned by women. That's about 1.2 million businesses supporting the U.S. economy and providing millions of jobs nationwide.
Learn How Women Business Owners Can Reach the Global Marketplace
With the growing trend of globalization and increased Internet use, women-owned businesses have seen a rise in international trade, allowing them to reach a wider audience than ever before. Expanding market access can spur economic growth for all, especially as the world recovers from the pandemic.
That's where the Export-Import Bank of the United States (EXIM) comes in. EXIM's Minority and Women Owned Business Division (MWOB) works closely with organizations that have a minority trade focus, to help spread the word about EXIM financing and create opportunities for export-ready U.S. businesses. That will be the topic of a free special event:
From Land, Sea, and Air to Exporting – Women-Owned Businesses on the Go!

March 23, 2022, at 1pm EST
You will learn about EXIM financing products and services as well as other resources that are available for women-owned businesses in both the public and private sectors. Participants will include the U.S. Commercial Service, Minority Business Development Agency, WEConnect International, and Organization of Women In Trade. You also will hear from Merrilee Kick, Founder and CEO of Buzzballz, a woman-owned small business based in Carrollton, Texas, that relies on EXIM to support its international sales.
During the webinar, you also will have an opportunity to: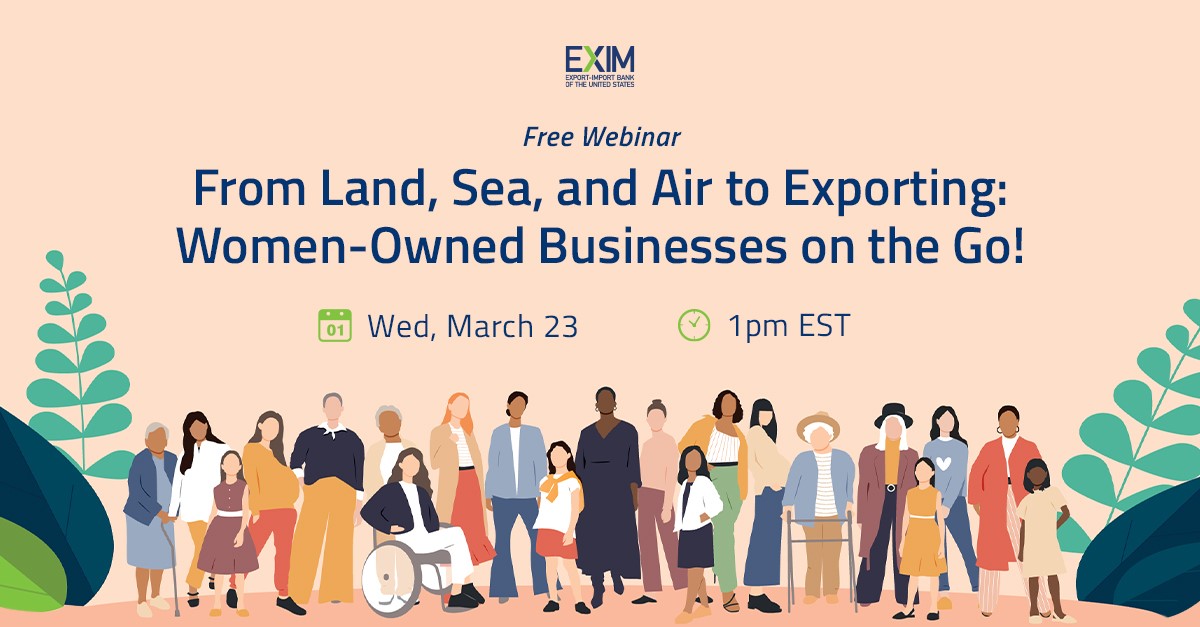 Register today to join this free special event. To find out how EXIM can help your business compete in the global marketplace, schedule a free consultation with a member of the MWOB team.